content creators has a wide range of experience in preparing words, graphics and images for the leading media serving the professional audio, video production, broadcast, multimedia and related industries.
Let us prepare some examples so that you can appreciate the professional touch we bring to any marketing communications project.
>>trade MAGAZINES: We can provide examples of news releases, features, company profiles, in-depth interviews, product reviews and similar material, either bylined or ghosted for industry professionals. LSA0409 | MIX0809| Inside Track
>>trade advertising: We can provide examples of full/fractional-page ads designed to establish brand identity & product differentiation, using attention-grabbing headlines and selling copy in conjunction with graphics and imagery.
>>collateral materials: We can provide examples of copy, graphics and images developed for product brochure, technical data sheets, newsletters, sales and marketing support.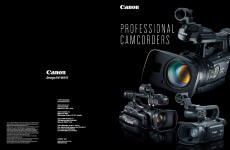 Multi-page brochure for new Canon
Camcorders - produced February 2013



We can provide
the best possible
marketing support to
strengthen mind share
and expand target
market penetration.

By successfully
increasing awareness
of your organization
in the appropriate
channels, you can
shorten sales cycles.